Opportunities for SMEs/mid-caps to profit from SMARTER-SI
Up one level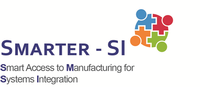 The Application Experiments
Eleven smart products are already in implementation:
Portable multi-parametric point-of-care testing device that can be operated without previous knowledge to check e.g. groceries on micro-toxins. >> read more
Energy-autonomous dew-point measuring system with short response time and high precision to be applied in freeze-drying and process control. >>read more
Maintenance free carbon dioxide measuring system with minimum power consumption, high sensitivity and low detection limit. >>read more
Portable device for testing the quality of drinking water.
Wireless sensor system with energy autonomous operation to enlarge periods of maintenance for environments that might be dusty and oily (engines, heavy equipment, clutch brakes etc.). >>read more
Integrated smart system to detect toxic substances in a standard 24 multi-well plate. >>read more

Sensor platform to detect and record condensation as means to protect electronics against damage caused by humidity. >> read more
High-sensitive and robust pressure sensor for harsh environments based on silicon strain gauge and ceramics membrane. >> read more
Portable, miniaturized capillary electrophoresis system with the potential to replace expensive and cumbersome methods for detection of bio-markers and drugs.
Modular system for respiratory applications with re-usable parts and disposals. A highly integrated and miniaturized sensor platform for different medical and wellness applications.>>read more
Innovative integrated smart tools to enable new processes to supersede the hitherto existing ones that use hazardous substances causing health damages.
Invitation
Contact us to realise new ideas for smart products
Innovative products enhanced with Smart Systems Integration
Broader opportunities with integration of new technologies
Need for small scale production but with the potential for high market value
Coordinator Contact

Project Coordinator:




Hahn-Schickard-Gesellschaft für
angewandte Forschung e.V.
Wilhelm-Schickard-Straße 10
78052 Villingen-Schwenningen
Germany
Contact:




Rainer Günzler
Rainer.Guenzler@Hahn-Schickard.de
Tel: +49 7721 943 188
Fax: +49 7721 943 210
Stephan Karmann
Stephan.Karmann@Hahn-Schickard.de
Tel: +49 7721 943 133
Fax: +49 7721 943 210
Document Actions